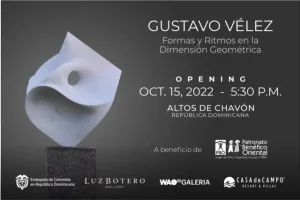 Gustavo Vélez adorns the gardens of Altos de Chavón with his exhibition "Forms and Rhythms in the Geometric Dimension".
WAO Gallery & Cultural Center located in Altos de Chavón, will inaugurate on October 15 the exhibition "Forms and Rhythms in the Geometric Dimension" by the Colombian artist Gustavo Vélez. His work seeks a forceful harmony between each of the lines that form it, giving meaning, value and logic to dreams. They are creations that mix with the subtle air and dance from start to finish while enjoying the changes in each of their movements. The challenge is to ensure that the hardness and heaviness of the materials have a touch of delicacy and transparency, that the sculpture becomes light and that the geometry floats in space like a provocation of infinity, like cosmic energy.
His work is present on several continents, in public and private collections, including one of his monumental sculptures (Flying, Korean White Marble) as part of the collection of the Art Valley Sculpture Park in Seoul (Korea). Vélez's most recent project is a 16 meter high work, made of steel for a luxury hotel in Forte dei Marmi, Italy. In the last five years, Sotheby's and Phillips auction houses have included Vélez's sculptures for Latin American art auctions in New York and his works have been successfully auctioned.
The sample has 4 pieces exhibited in the gardens of Altos de Chavón, thanks to the efforts of its representative Luz Botero, who is responsible for the artist being in the country. The exhibition will remain open from October 15, 2022 to January 29, 2023 from Monday to Sunday from 9:00 a.m. to 9:00 p.m.